Woodcraft Custom Wood Garage Doors brings together beauty, functionality and character. Whether your style is rustic or elegant, our professionals will help you design a custom wooden garage door to perfectly enhance your home.
Our custom made wooden doors feature 5-layer construction, which provides insulation of R-8. Not only does this help reduce heating costs, it also effectively reduces outside noise and is one more effort you can make in going green!
With a history of superior service, you can rely on Woodcraft Custom Wood Garage Doors to provide your family security and safety for years to come. Click on Brochure Button below for complete information (wood species, colors & styles etc).

Woodcraft Garage Door Brochure ...
Traditional style features: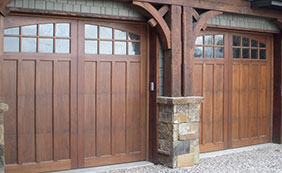 Revival of Old World style garage doors, boasting strong, vertical lines.
Elegant detailing, square shapes, and smartly topped with small paned windows.
Gracefully refined, the arched, small paned windows reflect a period fanlight look.
Rustic style features: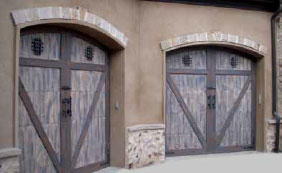 Rough-stained and reflective of old country charm of a simple, rural lifestyle.
Darker crossbucks and half bucks add contrasting elements to lighter wood.
Hand-forged, iron hardware complements design and captures inviting warmth.
Rustic Style Brochure … more details >>
Carriage House features: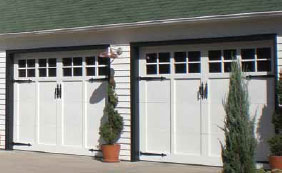 Beautiful black or silver antique hinges and handles.
Rectangular top panel design.
Choice of clear acrylic windows or solid aluminum panels.
Carriage House Style Brochure … more details >>
X-treme Custom style features: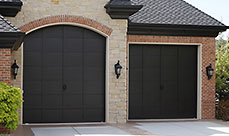 Unique, one-of-a-kind, designs and accents to complement highly original tastes.
Long or short symmetrical raised panels punctuated with custom pyramid panels.
Sophisticated opaque glass and scrolled custom-forged iron heightens Old World charm.
X-treme Custom Style Brochure … more details >>