Looking for Quality Custom Wood Doors?   Burton Lumber is committed to bringing you only the very best! No matter what style of Exterior Door you are searching for we will have it, even if it needs to be custom made to your specifications! The doors we offer are crafted from only the finest materials and are always the latest in beauty, reliability and energy efficiency, all at a price that will make you smile.
THERMA-TRU Exterior Doors
View complete details

→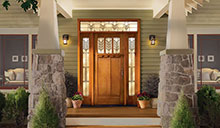 Therma-Tru entry door systems are the brand that most builders and remodelers prefer. Every line of doors they offer comes with a package of performance that is unrivaled in the industry. With a front door by Therma-Tru not only will you see an increase in comfort, energy efficiency, and performance, you will also see an increase in curb appeal. In fact, you can increase the perceived value of your home just by adding a Therma-Tru entry door system to your home.
Discover the possibilities for your home. Therma-Tru's superior engineering results in high-quality products with enduring beauty.
View Therma-Tru Literature
Here you will find a list of Therma-Tru's popular literature pieces for download. Files are made available for you in a web-ready PDF format.
WOODCRAFT – Custom Exterior Doors
Woodcraft is committed to providing the highest quality custom wood doors and millwork in the region. These products are domestically produced and utilize fully sustainable and renewable resources. The services we provide and the pricing of our products combined with our commitment to quality are paramount in achieving our ultimate goal of total customer satisfaction.
Every component is inspected multiple times throughout the manufacturing process to ensure quality in every product. We use only the finest materials available, balancing old world craftsmanship and the latest state-of-the art equipment in our pursuit to exceed your expectations in the products we build and the service we render.
Quality is created in our, materials, tooling, processes, equipment, and a desire to be the best at what we do. We are not only committed to delivering a quality product, in a timely manner, as ordered, but also to deliver value at a fair price to you, our valued customer.
Some of the Wood Species you can choose from; Superior Alder, Knotty Alder, Birch, Beech, Cherry, VG Hemlock, Hickory / Calico, African Mahogany, Maple, Oak, Poplar or Walnut.  Click on the Catalog Button below to view styles and wood species options.  If you have further question or need expert assistance please call us at (800) 388-8191


COMMERCIAL DOORS
If you are building or bidding a project that requires Commercial Doors don't hesitate to contact one of our Experts at Burton Lumber for professional assistance or advice.
Burton Lumber prides it's self in providing "Service Beyond Expectations", Give Us a Call Today!
Talk to One of Our Experts
Call (800) 388-8191
You may also directly call the location nearest to you:
Salt Lake City – (801) 952-3700
Holladay – (801) 277-2621
Lindon – (801)785-6858
Layton – (801) 547-9411
Heber City – (435) 654-3600
Logan – (435) 752-3601
St George – (435) 674-7007
Northern Truss Plant – (801) 952-3800
Southern Truss Plant – (435) 674-4737