Weiser Kevo – The Evolution of the Key is Here:
Your Smartphone Is Now Your Key
Keep your phone in your pocket or purse. No more fumbling for your keys… just touch the lock to open for the ultimate in convenience.
Is your phone compatible?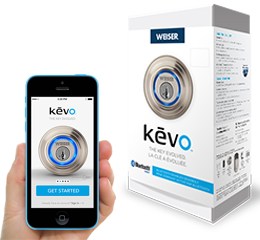 Compatible with Apple iPhone 4s, 5, 5c, and 5s only
No Smartphone?
No Problem …
Keep your Fob in your pocket, purse or backpack and enjoy the same Touch to Open convenience. The Kevo Fob, that is included with the lock, is pre-enrolled so no additional setup is required.
Additional Fobs will be available for purchase.
Kevo Mobile App
Download the free mobile app from compatible smartphone app stores, such as the iPhone app store. The app is used for initial setup, sending, disabling and deleting eKeys, viewing history of lock activity, and setting up other configurable features and options. The Kevo App runs in the background on your device so there is no need to open the app to enter your home. Now available in the App Store.
About eKeys
What is an eKey?
An eKey is an encrypted electronic key. The eKey moves your physical key into the digital world and significantly improves your home access experience. With the Kevo app, you can enjoy the security and convenience of complete key management:
Send an eKey to anyone, anywhere, anytime
Temporarily disable or permanently delete any user from the Kevo system
eKeys never expire and can be reassigned from one person to the next
New free, unlimited Guest eKeys
Available Colors:
SYSTEM REQUIREMENTS
– ƒBluetooth Smart ready with a Bluetooth 4.0 enabled device
– ƒData connection required to download Kevo mobile app
– ƒSmartphone compatibility: Apple iPhone 4s, 5, 5c or 5s,
– iPad, iTouch, etc. Check here for an updated compatibility
– list: www.weiserlock.com/Kevo

Call For Assistance or Quote - (800) 388-8191