Discover Advanced Garage Solutions with LiftMaster Garage Door Openers at Burton Lumber. Elevate your garage experience with two-way audio communication and video capabilities via the myQ app. Stay connected, secure, and in control from anywhere. Brighten every corner of your garage with long-lasting LED lighting. And with our battery backup, power outages won't leave you stranded outside. Opt for our premium belt, sold separately, and enjoy the seamless and whisper-quiet performance of our state-of-the-art DC motor and sturdy belt drive system—ideal for homes with rooms next to the garage.
Experience the superior strength of our DC openers, outshining traditional AC models. Many of our openers come with adjustable speeds for rapid access. Over the years, advancements in garage door opener technology have prioritized your safety. Hence, when updating your garage door, we suggest complementing it with a new opener.
For optimal performance and safety, all LiftMaster Openers and Operators should be acquired through an authorized dealer and installed by professionals.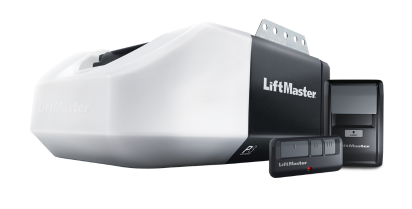 With its rugged reliability and exceptional all-around performance, the 8160 1/2 HP AC Chain Drive Garage Door Opener is the perfect choice if you want enhanced style, reliability, and the performance attributes of our best-selling drive system ever.
• Heights: 7, 8, 10
• Series: Premium
• Drive: Chain
• Motor Warranty: 4 Year
• Parts Warranty: 1 Year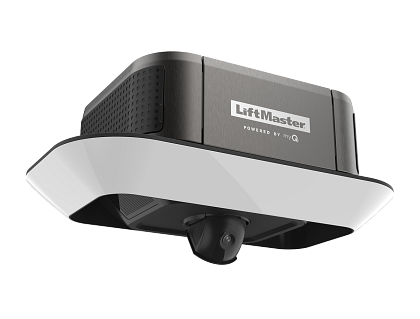 The LiftMaster 87504-267 (Replaced 8550W) Belt Drive Opener is a garage door opener with a built-in camera and 2-way audio communication. It also has a 2000 lumens ring light that connects to the safety sensors. The opener is incredibly quiet and can be secured and monitored from anywhere.

• Heights: 7, 8, 10
• Series: Elite
• Drive: Belt
• Force: 900 Newtons
• Motor Warranty: Lifetime
• Parts Warranty: 5 Years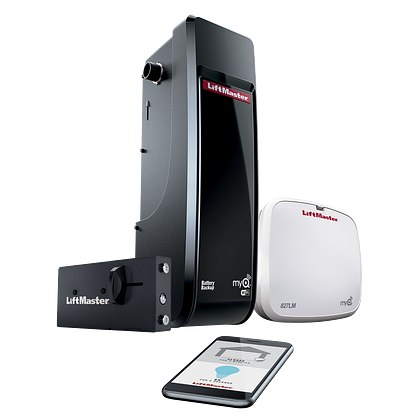 This sleek, space-saving design mounts on the wall beside your garage door, freeing up ceiling space. This Elite Series model comes fully equipped with Security+ 2.0®, MyQ® Technology and the Timer-to-Close system.

• Series: Elite
• Drive: Belt
• Force: 24 Volts
• Motor Warranty: Lifetime
• Parts Warranty: 5 Years
Professional Garage Door Openers and Accessories: