Burton Lumber One of Utah's Energy Conservation Leaders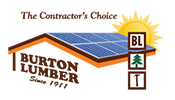 As one of the largest Building Material Supply Companies in the Inter-mountain Region …
… we are proud to be one of the leaders in our industry in sustainability and we are working with our community to be more environmentally conscious. We have fully embraced the mantra of "Recycle, ReUse and Reduce on every level. Read the December 21, 2013 article in the Deseret News "New solar projects in Utah, nation poised to come online"
01/20/2015 – Upcoming Event: Burton Lumber Lindon Location goes Solar!
Our Lindon Location's "Flip the Switch" Event: January 20, 2015 | 8:30am to 9:30am MST | Live Google+ Broadcast starts at 9:00am MST
Join the LIVE EVENT CONVERSATION on Google+ Click Here. | Circle Us on Google+ to Learn More About Our Commitment to Energy Conservation Click Here.
01/20/2015 – Upcoming Event: Burton Lumber Layton Location goes Solar!
Our Layton Location's "Flip the Switch" Event: January 20, 2015 | 11:30am to 12:30pm MST | Live Google+ Broadcast starts at 12:00 noon MST
Join the LIVE EVENT CONVERSATION on Google+ | Circle Us on Google+ to Learn More About Our Commitment to Energy Conservation.
06/04/2014 – PRESS RELEASE: PRESS RELEASE GOVERNOR'S ENERGY AWARDS Burton Lumber Honored as Utah Environmental Leader of the Year at the Energy Development Summit In Salt Lake City
01/21/2014 – KSL News Story Burton Lumber's Story on KSL News
10/08/2013 – ABC "Made 4 Utah" Burtron Lumber's "Made 4 Utah
Our "Flip the Switch" Event
Recycle
We started a paper recycling program in 2008 and currently recycle approximately 1 ½ tons of office paper every 8-10 weeks.
We implemented a cardboard recycling program that has recycled just over 5 tons of cardboard per year on average.
We installed a commercial garbage compactor which reduces the trips taken to the land fill and landfill fees.
ReUse
We installed a finger joint machine that converts all of our scrap lumber into finger-joint material. This saves on waste taken to the land fill and creates a new product that can be reused. This finger joint lumber is resold to make other products from.
We have a sawdust collector that takes all the sawdust from the door shop equipment such as planners and sanders, and collects it in a bin utilizing a vacuum system. Once collected it is used for making pellets for wood burning stoves.
Reduce
We have upgraded the lighting in our facilities to more efficient fluorescent light bulbs. From T12 bulbs to T8 and T5s. As well as reduced the quantity of bulbs in each fixture to conserve energy.
Our shop has installed new automatic sensors in the floor to open and close the overhead doors. This saves energy in the winter and summer, for heating and cooling the building.
We are continually looking at the other equipment and hvac systems for further things we can do to be more efficient.
In September 2013 we finished installing approximately 4.5 acres of Solar Panels on the roof of our Salt Lake City location which made us the largest Utah based, privately owned solar array project in the state. We teamed up with electrical contractor, Hunt Electric, to design and install 2,676 solar modules. These modules will generate 642.2kW of electricity, which is the equivalent of:
74.2% of Burton Lumber's Energy usage at our Salt Lake Location
The Carbon sequestered annually by 501 acres of U.S. forests
CO2 emissions from the electricity of over 100 Utah Homes
Annual greenhouse gas emissions from 127 passenger vehicles per year
CO2 emissions from 68,568 gallons of gasoline consumed
Greenhouse gas emissions avoided by recycling 229 Tons of waste instead of sending it to a landfill
We are now studying our other 6 location's energy needs throughout the state to see what we can do to be more efficient, how we can reduce energy costs, and have planned to do future phases of solar arrays at those locations, as well as retrofitting the lighting, implementing recycling, etc.
We have an in-house Energy Manager that continues to look at every strategy for Recycling, ReUsing and Reducing our energy costs so that we can continue to partner with our community in being more Environmentally conscious and focused on sustainable and renewable practices.
Burton Lumber is striving to make a difference and be an example to other businesses that renewable energy is not only good for the environment, but also for the bottom line of any progressive business. Their unprecedented solar project is proof that you can make an investment that is beneficial to your business while also contributing to your community.
Energy Conservation Partners:
About Hunt Electric
For more than 27 years Hunt Electric has built a rich heritage of providing industry leading services for various commercial, industrial, highway, healthcare, government, data centers, hospitality and institutional projects throughout the Inter-mountain West. With seven divisions In-house, Hunt Electric is proud to serve as the region's most diversified electrical, infrastructure, renewable and data/communication contractor. Our value-added, turnkey services range from innovative, highly technical design-build and installation for multi-million dollar projects to routine facility services, tenant improvement build-outs, lighting retrofits and maintenance programs. Hunt Electric is licensed in eight states and boasts an outstanding safety record of over 2.6 million man hours without a lost time injury.
With in-house engineering and project management staff, and a proven cost control system, the Energy Division offers the innovative solutions of a specialty provider backed by the experience of a proven electrical construction company. Thanks to the company's commitment to safety and customer service, Hunt Electric has successfully designed, built and maintained solar, alternative energy and infrastructure projects for many of their customers. All of these things, in combination with our decades of service excellence, make Hunt Electric the solid choice for taking your business into the future.